Description
An inexpensive basic workstation for fine laboratory work.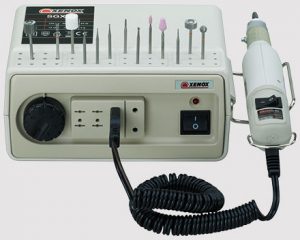 For drilling, milling, grinding, polishing, cleaning, cutting, engraving and marking. Motor handpiece and control unit as described above. Convenient speed pre-selection via knob at control unit for speeds from 5,000 to 20,000rpm. Including steel collets 1.0 – 1.5 – 2.0 – 2.35 – 3.0 and 3.2mm.
NO 68 600     basic set
Note:
The accessories shown in the picture are not included in the scope of delivery.